Today I went for a 3 km walk in the sunshine and minus 6 C weather.
Later I also took a photo of my Christmas gifts.
http://www.catasa.se/4images/categories.php?cat_id=620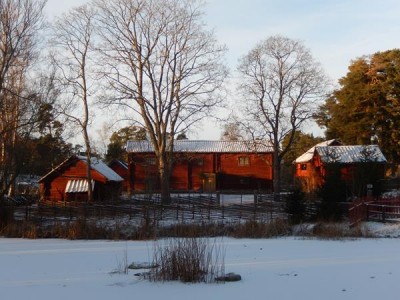 From my parents I was given: Touchscreen gloves. Weeping Willows CD The Time Has Come. Cat fabric dress by Cissi och Selma. Tiger sponsorship from WWF. Money. Two cat shaped and one puppy shaped Christmas ornaments. Sherlock Holmes – The Complete Collection DVD box will arrive later. Books: A Gift from Bob by James Bowen. More Fool Me by Stephen Fry. Life on the Edge by Jim Al-Khalili and Johnjoe McFadden. The Incredible Unlikeliness of Being by Alice Roberts. Subscriptions to magazines: Forskning & Framsteg, Modern Psykologi, Språktidningen and Modern Filosofi.
From my brother and his family I was given: Organic soap. Sylvanian Families mother dog. Omegavisp (whisk). Back rake. Money in my name for Doctors Without Borders. Pyjamas with cat featured fabric.
From my sister-in-law's parents I was given: Hair brush. Lilac nail polish. Gift package with tea, honey and candy sugar.