A photo of my Xmas gifts.
http://www.catasa.se/4images/details.php?image_id=13456
Kitchen machine (Spectra Indigo – OBH Nordica). Beer/Cider glass (Mus med katt – Lasse Åberg). Photos of my nephew and niece. Wall calendar (Kattfonden). Cross stitch embroidery (Kalender – Grötnisse). Candle holder (The rabbit – Bengt & Lotta). Note books with cats (Originella Original – Pia Bergvall Lundén). Cat shaped flower decorations (Pluto). Cat shaped Xmas figurines. Striped bath towel (Åhléns). Sweater (Grand Snap Fleece – Brooklyn Industries). Graphic T-Shirt (Cat's Cradle – Brooklyn Industries). T-Shirt (Jackpot).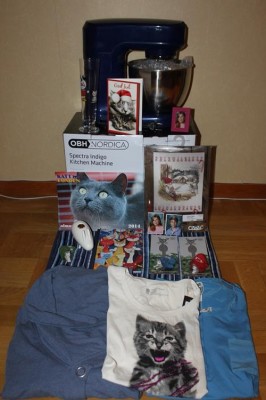 I'm expecting two more embroideries in January.